Kevin Clarke
Operetta Research Center
2 May, 2015
Cagliostro in Wien … Doesn't ring a bell? It's the 1875 operetta Johann Strauss Jr. wrote together with Richard Genée and F. Zell, the team that produced Die Fledermaus a year earlier for Marie Geistinger and her Theater an der Wien. It's a show about adventurer and occultist Count Alessandro di Cagliostro who was a con-man and master imposter. So it's only befitting that the Staatsoperette Dresden should present his story after recently scoring a success with Catch Me If You Can about con-man/master imposter Frank Abagnale. This Strauss work is, however, not a glitzy import with a certain Broadway flair, instead it is officially part of the ongoing Johann Strauss revival series, partly documented on CD.
When the Dresden Strauss series started, the idea was to present – live on stage – the latest critical editions by the Johann Strauss Gesamtausgabe. So even when the staging and singing were nothing more than adequate, at least you got to hear the score complete in its original form. As a result, the excitement among Strauss fans – e.g. at the recent Tanz-Signale symposium in Vienna – was great when this revival of Cagliostro was discussed. I recall that nearly everyone at Tanz-Signale said they'd come to Dresden for the opening night. After all, where else would you get a chance to actually see and hear a complete Cagliostro?
Well, don't get your hopes up too high. The Staatsoperette and its Intendant Wolfgang Schaller chose not to play the 1875 Cagliostro. Instead, this is a completely re-written version by Austrian cabaret artist Alexander Kuchinka, adapted for the stage by Ansgar Weigner and Carsten Süß. The result is (how can I put this nicely?): questionable. The story, originally set in 1783, is updated. Instead of the Prater at the time of Maria-Theresia we are at an Austrian film festival in 2015, at the premiere of a movie called "Highway to Beauty." What exactly this film has to do with the story is not really clear; and it doesn't become clear in the course of three acts.
The basic characters are still there, even by their original names, but what they are doing in the new story line is anyone's guess.
The star-role is that of Cagliostro's servant Blasoni, originally created by comedian Alexander Girardi. He gets the biggest hit of the evening, the yodel duet "Könnt' ich mit Ihnen fliegen" which Strauss turned into the irresistible Cagliostro-Waltz later.
In the new version, Hauke Möller as Blasoni is only moderately funny and not a star attraction. Even though the entire staging by Ansgar Weigner tries to copy Barrie Kosky's mad-cap slapstick approach to operetta, he does so with lamentable timing and no sense of professionalism. You get people running around, and around, without any goal or aim, reciting dialogue that makes you wonder if anyone really paid Mr. Kuchinka for this. The same is true for the new lyrics.
There are three "clowns" added, as a running gag, one of them is the cute Jannik Harneit (yes, the one who played Frank Abagnale in Catch Me.) What these three youthful men are supposed to be in the new version, why they call their employer Cagliostro "Master" in 2015, and why one of the three has to dress up as a woman repeatedly, is another one of the unsolved mysteries of this production.
Elke Kottmair gets to sing the "Old Lady," the major comedy role next to Blasoni. While Kottmair certainly has comic timing, she is far too young to be convincing as an old maid. And her comic talents are wasted, completely, in a staging where the comedy is utter chaos. The Geistinger role of Lorenza is taken by Catalina Bertucci in a dirndl and blond wig ("the thousand year old virgin"). She masters her murderous coloratura well, looks well, but it's impossible to place her character in this story … she's just there. And that's it.
The most convincing moment, musically speaking, came at the end. Just before it's really over, finally, Cagliostro get's the sing "Als flotter Geist" with a new text explaining the trials and tribulations of social media. Tenor Bryan Rothfuss – in a white Amadeus wig – opens up his voice for the first time all evening for this and dazzles the audience with his closing number, after 2 ½ hours of boredom. Plus, with a number that doesn't have any reason to be in this show in the first place.
Yes, it's absolutely legitimate to update, adapt and re-write an operetta, including "Cagliostro." But if you do it, you should demonstrate at least a minimum amount of bravura and intelligence.
I sat with five out-of-town visitors afterwards, all of whom were speechless at the banality of this production/version. Not even the conducting of Andreas Schüller ever rises above minimum standards. And there are, after all, some enchanting musical numbers in this score.
A Viennese friend, drowning his anger that he flew all the way to Dresden for this in beer after beer, said to me: "The best thing about this Cagliostro is the excellent essay by Marion Linhardt in the program book." He's absolutely right; it's an essay that makes you curious about the original operetta. Even if the 1875 version was never a success, neither in Vienna nor in Berlin or Budapest, it would have been more interesting to see and hear that instead of this newly fabricated version.
If you catch the right performance, you can hear Ingeborg Schöpf in her very first excursion into character repertoire: as the old lady.
She is alternating with Miss Kottmair who will sing Daisy Darlington in the upcoming Ball im Savoy in Halle, directed by Tobias Bonn. And just to end this rant on a positive note: fans of Jannik Harneit can pre-order a CD of him singing Catch Me If You Can. The recording of the Staatsoperette production, on double disc, will be available this summer. Personally, I'd say it's advisable to stick to that musical comedy and avoid the Cagliostro.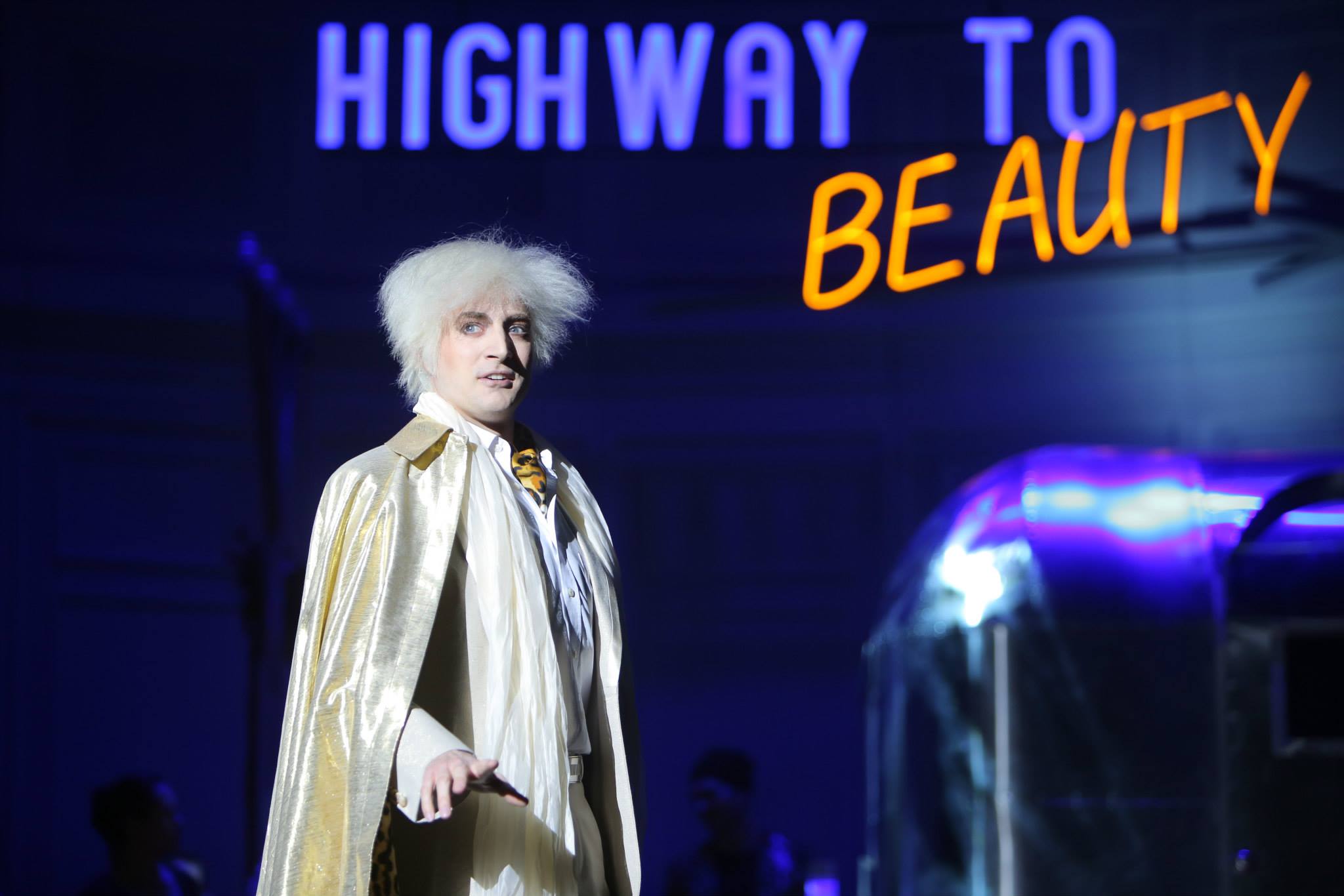 While having drinks after the show, back at the hotel, I had the immense pleasure of talking with Dagmar Schellenberger. She told me about her upcoming Strauss staging in Mörbisch, Eine Nacht in Venedig. If you are planning to travel for a Strauss operetta this summer, the Mörbisch option might be the better choice. Not just because the forever charming Miss Schellenberger is in it (thought that's a good enought reason) but because there is no total re-write to be feared. However, the famous Cagliostro yodel-waltz has been added to the Mörbisch production; it will be sung by Dagmar Schellenberger, of course.