Kevin Clarke
Operetta Research Center
28 February, 2016
This season, the Victor Herbert Renaissance Project Live! is focusing on "humor" and celebrating that aspect in the works on Victor Herbert. Their motto for 2015/16 is: "Discover The Lost Art of the Chuckle." Up next in their programming is the 1898 hit The Fortune Teller, which originally showcased the talents of Alice Nielsen and her newly founded Alice Nielsen Opera Company (which you might compare with Lydia Thompson and her British Blondes).
Nielsen having earned widespread praise in The Serenade, requested and received not one but three roles in The Fortune Teller. The story is set in Hungary and involves Irma, an heiress from Budapest, who is studying for the ballet. Irma is in love with a young Hussar captain but is being forced to marry the silly Count Barezowski. When a gypsy fortune teller, Musette, arrives, she is mistaken for Irma, a case of mistaken identity that fosters many complications.
After a tryout in Toronto, it premiered on Broadway on September 26, 1898 at Wallack's Theatre and ran for 40 performances. It was revived in at Jolson's 59th Street Theatre and ran for 16 performances.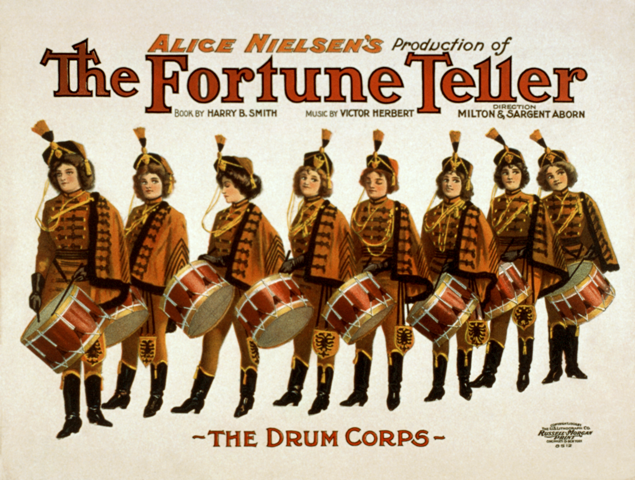 VHRP LIVE! is on a mission to re-popularize one of the greatest icons in the history of American music. Now in its second season, the Victor Herbert Renaissance Project LIVE! presents The Fortune Teller with a robust company of strong, experienced voices, featuring Sarah Caldwell Smith, Mitchell Roe, David Seatter, Daniel Greenwood, Vira Slywotzky, Matthew Wages, Katherine Corle, Chelsea Friedlander, Angela Christine Smith, Drew Bolander, Bray Wilkins, and Jonathan Rohr. Music Director Michael Thomas conducts, William Hicks accompanies on piano, and Emily Cornelius choreographs. The libretto is by Alyce Mott, original lyrics by Harry B. Smith.
The Fortune Teller's comical, madcap plot includes the songs "Hungarian Hussars," "Always Do As People Say You Should," "Ho! Ye Townsmen!," "Romany Life," "The Power of the Human Eye," "Ding Dong, "Gypsy Love Song," and more.
For more information on the concert or VHRP LIVE! click here.